If you are looking for the best automatic curling iron then keep on scrolling ladies! Why? Because here, you are sure to find an amazing hair curler you will defiantly fall in love with.
You hate waiting an hour each day to get those curls done, don't you? This is the reason we have listed only the best automatic hair curlers that give you some pretty impressive instant curls.
The Difference Between a Curling Iron and an Automatic Curling Iron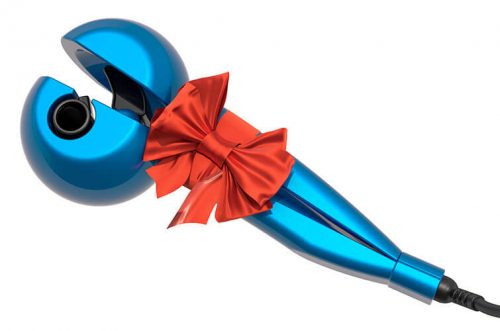 When using a normal curling iron, you need to put in the effort to twist your hair around. Then you hold it in place until you think the curl is fully formed. However, the trick about these curlers is that they BURN your hair. Leaving your hair lifeless and dry after some time of use.
While an automatic curling iron works more moderately. Just simply put a clump of hair inside the curler's chamber and it will curl your hair itself. This process is usually is timed and releases your hair after a few seconds. The timer setting is the secret behind why the curler doesn't damage your hair.
Top 6 Best Automatic Curling Irons
1.

INFINITI PRO CONAIR Automatic Curl Machine 
Are you looking to achieve those sexy curls you see on TV? This can all be possible without even leaving an appointment with your hairdresser! With this perfect hair curler, you will get fast easy curls in less than 20 minutes.
The auto hair curler comes with two different temperature settings that reach a maximum of 400 degrees Fahrenheit. The curler is also designed with 3 different timer settings. It's a good pick if you are looking for an automatic curler that has some extra features such as a safety tangle setting, sleep mode, auto shut down, long swivel cord and the list goes on!
However, all these settings make it hard for you to figure out the product at first, but once you get the hang of it, you will be styling your hair in many different curly hairstyles. The NFINITI PRO CONAIR is the best hair curler machine when it comes to smooth functionality. You can achieve loose, and medium and  loose curls
PROS
Curls hair fast
Works on all types of hair
Can be customized
Affordable
CONS
It takes time to heat up
Weighs more than its competitors
2.

CHI Automatic Curling Wand
With almost 8000 auto hair curler reviews, this is the hottest pro automatic hair curler in the market at the moment! The main reason why it is so in demand is that it is one of the only rapid curlers available.
If you had enough of your hair getting eaten away by those cheap quality curlers, then picking the CHI Spin N Curl will make your curling experience a bit smoother. Your hair is sucked in the curl chamber and is heated in perfect timing.
Oh, and for all those frizzy hairs out there… say goodbye to looking like you were electrocuted. Because the automatic wand curler is built out of ceramic material. This means that it is designed to suck the extra ions out of your hair. The curler also has the perk of heating up almost instantly.
Regarding its features, it is equipped with a LED display that makes it possible to show you the current temperature of the hair curling iron.
PROS
User friendly
Dual voltage
Designed with ceramic
Curls hair fast
Long-lasting results
CONS
On the expensive side
Takes longer than its other competitors
3.

Kiss Auto Hair Curler
The kiss curling iron is an instant hair curler that is built with ceramic technology. It is one of the few automatic hair curler brands that go easy on your hair and doesn't strip your hair from its natural oils and moisture. This is the secret that makes your curly hair look shiny and natural. Not to mention that it keeps its frizz away by its ceramic build.
It comes with different heat settings that go up to 400 Degrees Fahrenheit. This automatic hair curler also heats up to its maximum temperature for less than 60 seconds to speed up the time it takes to style up your hair. Equipped with a timer indicator, it always reminds you what moment it is ready to use by turning blue.
It works no matter the hair type you have! This hair curler is so simple to use, you just push one button, and BOOM! you got some amazing curls. However, it can take some time to get good at producing perfect curls.
Unlike many automatic hair curlers that are not good at dealing with short hair, this automatic curling can curl even chin-length hair. Although, your hair might get tangled during the usage of this curler. No worries… don't get scared yet because, with the push of a button in the opposite direction, you can release your hair in a matter of seconds.
PROS
Heats fast
Lasting results
Equipped with helpful settings
CONS
Might darken platinum hair
Takes a while to perfect curls
4.

Yitrust Ceramic Automatic Hair Curler
Are you looking for a hair curler that curls itself? Well, to no surprise, that is exactly what this automatic ceramic hair curler does. Once you place your hair in the chamber, it will get twirled and heated itself without any effort. After the curling iron that sucks hair in heats your hair at a temperature range of 180F to 410F, you will get notified by the timer beeping setting if the curl is ready. This makes sure to make every curl full and bouncy.
To curl your hair, put a 0.4-to-1-inch chunk of it in the chamber of the automatic curling machine for the best results. This curler's many features include a beeping timer, adjustable heat settings, directional buttons. All these features create the perfect curls for any type of hair.
This curling hair machine brings the hair salon to the comfort of your own home. All this while saving your time and money! And if you accidentally forget to turn it of… this timer has got your back, because it is programmed to shut down after an hour. Just like the other ceramic hair curlers on our list, this curler's negative ions prevent frizz and reduces hotspots. Which leaves your hair with luscious healthy-looking curls.
PROS
Not tiring
Dual Voltage
Easy to use
Pleasing results
CONS
Beeping noise can be irritating
Not suitable for short hair
5.

BaBylissPRO Automatic Hair Curler
Run by motor technology, the automatic curling iron Babyliss delivers precision when curling your hair. But not only… it is also designed to keep your curls last longer and fasten the curling process.
Thanks to the Titanium curl chamber, your hair is protected from getting damaged by extensive heat, making it one of the best auto curlers for people with brittle hair. This celebrity curls instant hair curler includes many features to give perfect results. Features include time settings, adjustable heat, and of course, not to forget curls direction, which makes it possible for you to create different curl styles.
The automatic curling iron can be used with or without steam, depending on your preferences. Using the steam setting helps in giving you more outstanding results. It gives your hair a 50% better curl formation and 20% higher curl that lasts for up to 24 hours!
To be able to use the curl maker machine's steam feature, you should fill the reservoir first. However before opening the reservoir, make sure your curler is turned off first, then you can proceed to remove the rubber cap to fill it with water.
To guarantee the life span of the curler, it is critical to use only refined water. While putting the supply once again into the gadget, you will know it's fitted when you hear a tick. Avoid the repository after use. This curler is extremely light in weight, making it an ideal alternative if you love to travel often!
PROS
Designed with titanium
Features steam setting
Lightweight
CONS
On the expensive side
Doesn't deliver loose curls
6.

Conair Auto Curler
Looking for the best automatic hair curler that you can take anywhere with you? The Conair Unbound, otherwise known as the secret curler, is both rechargeable, cordless and comes with high performance when it comes to curling your hair. Yes, you read that right girls, this self-curling iron delivers beautiful waves without the need for electricity.
Just place a chunk of hair into the curl chamber which is made out of ceramic material. Then this self-curling iron gently heats your hair and gives you those amazing automatic curls!
All you have to do is to press just one button, that's it! No other efforts included. The Conair Unbound self-curler is also designed to curl your hair without damaging it from extensive heat.
When comparing it to a traditional iron, its curling iron automatic design gives it the possibility to be built with lithium-ion batteries. After it is 100% charged, you can use the device for 60 minutes straight anytime and anywhere.
The curler comes with different heat settings. Once you choose your desired heat setting, select the direction of your curl (either right or left or even mixed). Once the curling iron starts making a beeping noise, your curl is ready. This automatic hair curler can create many curling styles, which all depend on the heat setting and curl direction you choose!
PROS 
Cordless
Easy to use
Portable
CONS 
No emergency release button
Sometimes tangles hair
How to Choose the Best Automatic Hair Curler for Your Hair
You probably are not a professional at knowing a lot about which automatic hair curlers are right for different kinds of hair types. This is why we listed some of the most important things to keep in mind when choosing one of these automatic curling irons.
Choose your auto curlers with multiple time settings
It is always a good idea to choose your curling iron machine with many heat options. This is because different hair types require different temperatures to get the same results.
For bushy or thick hair: High heat (400 Degrees Fahrenheit)
For straight or thin hair: Low to medium heat 250-350 Degrees Fahrenheit)
ATTENTION! Using high heat for thinner hair can cause long term damage.
The barrel size for different sized automatic curlers
The barrel size of your automatic hair curling wand, affects both the shape and size of the curl. The larger the barrel of auto curlers, the bigger your curl will be, and the smaller the barrel the tighter your curl.
To achieve defined curls: Use a 2-inch barrel
To achieve loose soft curls: 1 to a 1.5-inch
The type of technology used in automatic curlers
What separates an automatic hair curling iron from a usual hair curler is the advanced technology it is built with. Auto hair curlers are designed with automatic rotating technology. This not only makes it easier to use, but it also makes it harder for you to get burned. Additionally, the automatic hair curling iron comes with direction buttons that make it possible to curl either outwards or inwards.
The weight of the automatic curling machine
This feature is often looked over by many potential buyers, and it is not really seen as something too problematic to be worth talking. But the best automatic curler must be lightweight. The lighter the curler is, the more convenient it is to use. It is also a great choice if you are a person that travels often.
Why is an automatic hair curler better than normal hair curlers?
The purpose of the automatic hair curler is to not damage your hair from heat. They work by sucking in a small portion of your hair and curling your hair without your effort. This saves time and keeps your hair looking healthy when compared to results given from a normal curling iron.